Healthy Recipe: Seared Salmon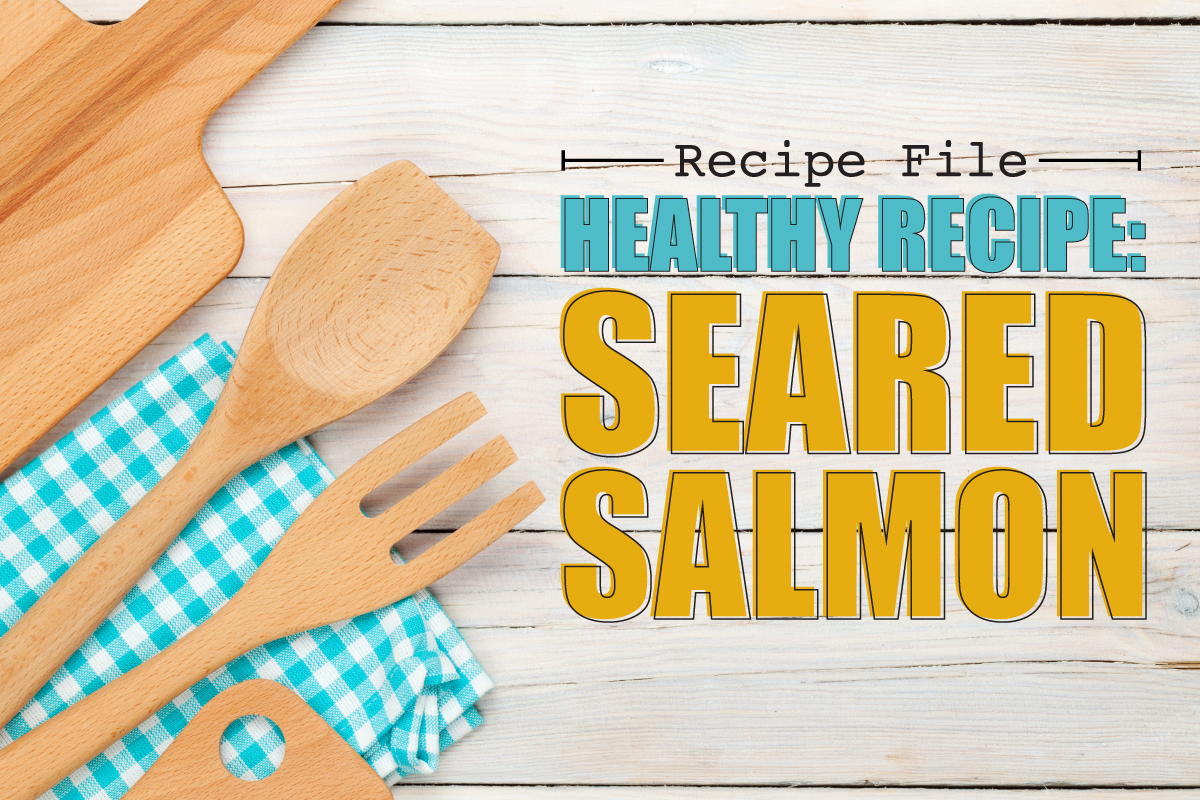 Versatile, nutrient-packed, and delicious, it's no wonder salmon tops the list of healthy foods for your weight loss journey. However, if you are not accustomed to preparing salmon at home, you might be intimidated about trying.
Don't be!
Salmon can be prepared with almost any method imaginable from grilling to smoked to baked. As an added bonus, canned salmon is often considered every bit as healthy as fresh or frozen and is available at a fraction of the cost. Consider swapping it for tuna next time.
The benefits of salmon, other than its subtle, non-fishy flavor, include: plenty of omega-3s for heart health, B vitamins for energy and inflammation control, and potassium (even more than bananas). This great source of protein also helps with weight control because it regulates hormones that control your appetite and is naturally low in calories.
So how should you prepare it? Here's a recipe we suggest to get you started. Paired with a simple side of spinach and white beans, this easy weeknight supper will win you over to the benefits of eating–and preparing–salmon.
Seared Salmon with Olive Relish
Recipe from My New Self. 
Ingredients
Olive Relish (optional)
1 cup mild green olives (such as Picholine), pitted and diced
1 Tbsp diced shallots
1/4 cup chopped fresh parsley
2 Tbsp champagne vinegar (or other white vinegar)
2 Tbsp honey
2 lemons, zested, segmented and juice reserved
black pepper to taste
Salmon
1 Tbsp olive oil
4 salmon fillets (4 oz each)
black pepper to taste
2 Tbsp crushed garlic
2 cups white beans, drained, with 1/4 cup liquid reserved
4 cups fresh baby spinach
Preparation
First, mix olives, shallots, parsley, vinegar, honey, lemon zest, segments and lemon juice. Add black pepper to taste. Set aside. Keep relish refrigerated in an airtight container for up to 2 weeks.
In a large skillet, heat 1/2 tablespoon of the olive oil until hot but not smoking.
Season salmon with black pepper and carefully lay in skillet.
Sear in hot oil for 2 to 3 minutes; do not move the fish.
Flip fish and cook for another 2 to 3 minutes.
In same skillet, combine remaining 1/2 tablespoon olive oil and garlic and cook over medium heat until garlic is golden brown, about 1 minute.
Add white beans with reserved liquid, spinach and black pepper to taste. Stir.
Cover pan and cook for 2 minutes.
To serve, cut salmon pieces in half and arrange over white beans and spinach. Top with olive relish, if using.
While this dish should be medically appropriate for bariatric patients, be sure to check with your own doctor if you have concerns. Freeze leftovers in individual servings for a quick lunch or dinner.
Enjoy!