Healthy Valentine's Treat: DIY Fruit Bouquet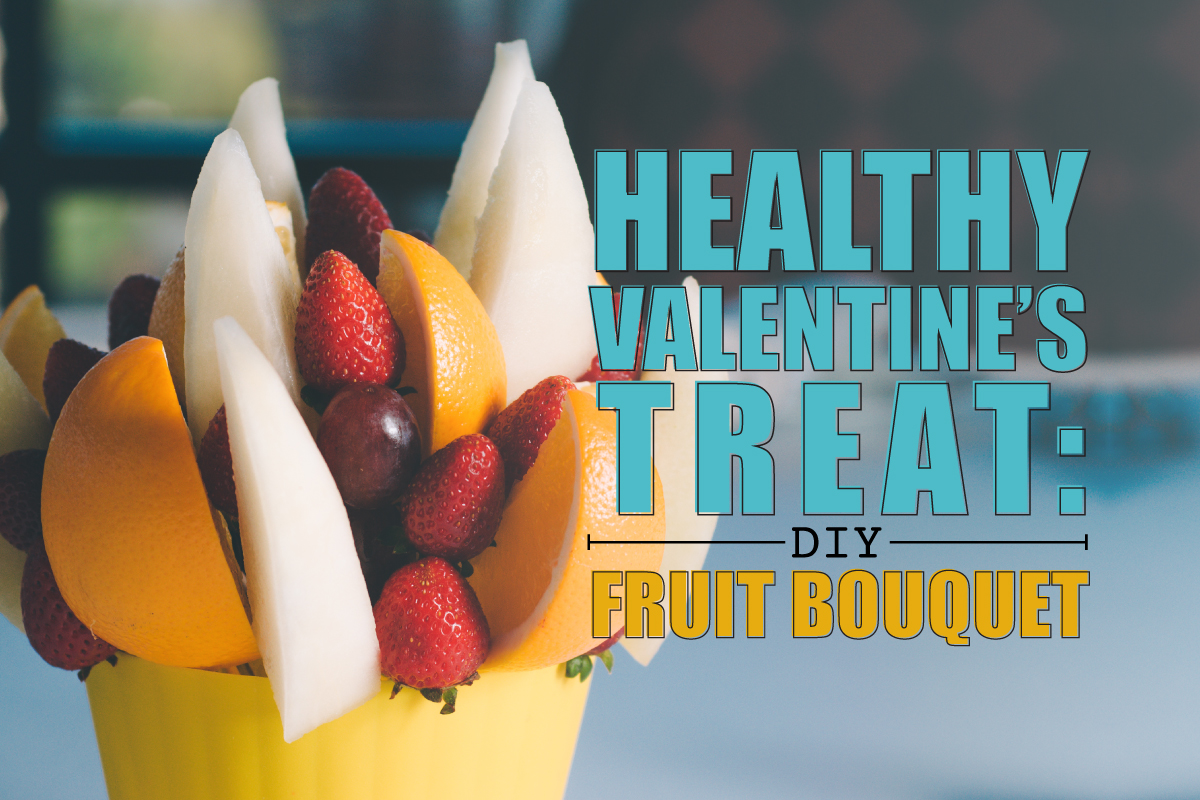 Forget candy and flowers. Make your Valentine's deliciously edible while keeping your healthy choices front and center. A fruit bouquet can be customized to yours (or your Valentine's!) taste and can be as elaborate or simple as you like.
Also, a fruit bouquet is much less expensive than you might believe. In an excellent tutorial, Juju Sprinkles breaks down how she created a bouquet valued at $100 online for only $20!
In order to make this special treat, you'll need the following utensils:
cookie cutters (variety of shapes such as stars, flowers, butterflies, hearts, etc)
melon baller
packages of 7″ and 10″ bamboo skewers
sieve
vase or heavy bowl at least 9″ in diameter
aluminum foil
storage containers for pre-prep
x-acto knife for cutting floral foam
floral foam bricks (3″x4″x8″)
cutting board
sharp knife for slicing
plastic wrap
Fruits commonly used:
oranges (at least 2, sliced thin)
strawberries (1 lb)
green and red grapes (seedless, 1/2 lb each)
cantaloupe (half)
honeydew (half)
pineapples (2)
But consider these fruit choices as well:
blueberries (will be more difficult to skewer)
watermelon (balling recommended)
kiwi slices
blood oranges for color
Instructions:
Cut floral foam into dome shape to fit inside your vase. Leave at least a 1/2″ gap all around for orange slices.
Wrap base in foil and place in vase.
Prepare fruit (can be done in advance and stored).

Wash all fruit in one part vinegar/three parts water solution.
Cut pineapple into discs and use cookie cutters for shapes. Trim shapes for neatness.
Cut cantaloupe and honey dew into wedges. Remove rind. Cut wedges into identical triangles or create half-moon wedges if melon is large. Thread onto skewers. Reserve some melon for melon balls.
Thread grapes onto skewers alternating red and green.
Hull strawberries. Do not skewer if prepping ahead.
Slice oranges into thin discs.
Store fruit up to 48 hours.

Place dome base in vase. Fill in gap with orange slices.
Insert melon skewers and work upward.
Thread strawberries and insert at varying heights.
Insert grapes and other melon skewers.
Add pineapple cutouts. Use melon balls for flower centers.
Fill to your liking and enjoy!
For compete tutorial visit Juju Sprinkles.