Healthy Summer Recipes for Gastric Sleeve Patients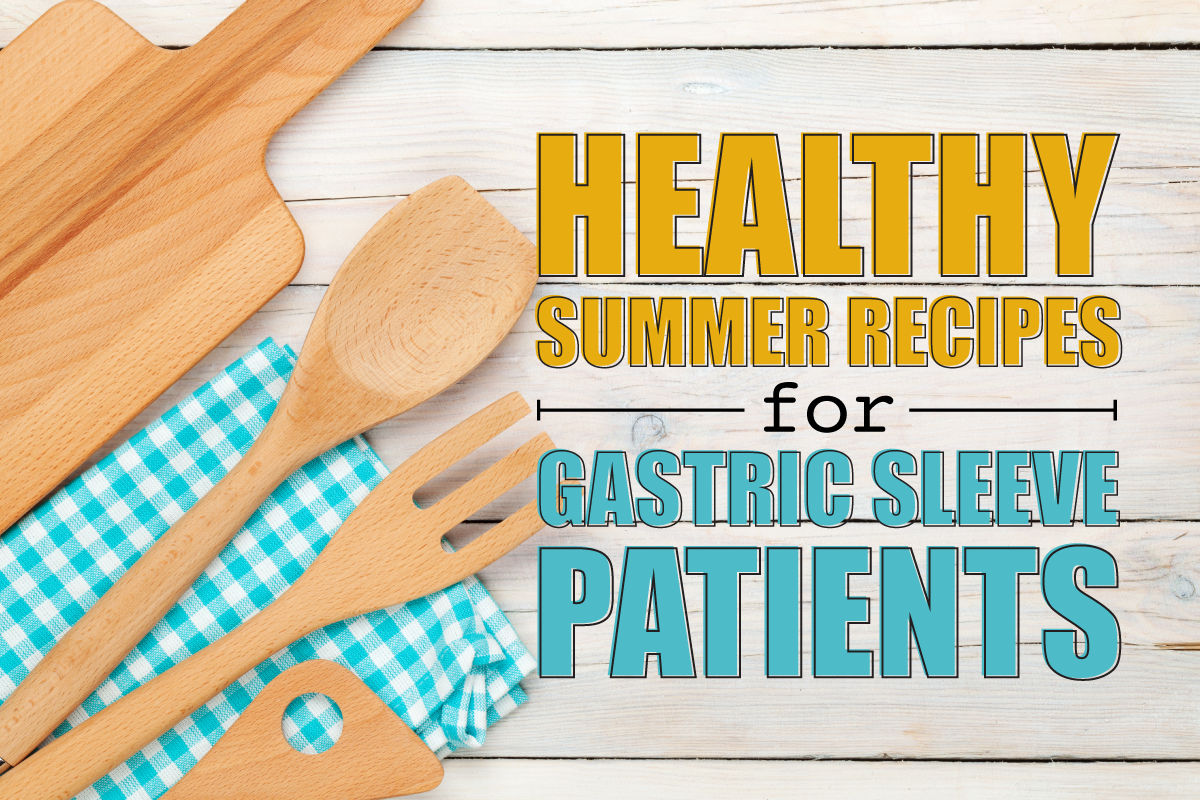 Whether it's your first summer after surgery, or you've become a pro at maintaining your new healthy lifestyle, recipes for summer probably don't have your mouth watering like they once did.
Standard cookout fare—hot dogs, hamburgers, baked beans, and grilled corn might not be the best choices for your diet. Instead, try some of these for a summertime food fix that suits your weight loss fix.
On the Grill: Marinated Meat and Summer Vegetables
Choose from summer's bounty to create a variety of unique dishes. As a bonus, you can easily prep these ideas into foil packets before attending a cookout. Bring it with you, toss on the grill, and join the party.
Ingredients (individual serving):
2-4 oz vegetables (squash, zucchini, grape tomatoes, beans, peppers, onions, etc.)
2 oz boneless chicken, pork, or sausage
marinade to taste
Directions:
Chop vegetables and meat. Place in zip top bag and pour over marinade. Refrigerate 1-2 hours. Remove from liquid and spread vegetables and meat in an even layer on non-stick aluminum foil atop grill. Grill until meat is no longer pink and edges of vegetables are browned.
Alternate:
Soak wooden skewers for 20 minutes before grilling. Spear vegetables and meat on skewers. Grill until meat is no longer pink, about 6-8 minutes, rotating often to avoid burning vegetables.
Marinade options:
3 tablespoons olive oil
1 tablespoon balsamic vinegar
2 tablespoons lime juice
1 teaspoon coconut sugar (or brown sugar)
1 teaspoon salt
1/2 teaspoon pepper
2 tablespoons fresh minced basil
2 tablespoons fresh minced oregano
Whisk together ingredients.
2 tablespoons canola oil
zest and juice of 1 large lime, plus additional for serving
1 tablespoon chili powder
1 1/2 teaspoons ground cumin
1 clove garlic, chopped
1 jalapeno, chopped (remove seeds and membrane if sensitive to spice)
1/2 teaspoon kosher salt
Whisk together and marinate meat and vegetables if desired. Serve with salsa, sour cream, guacamole.
Zucchini Boats, Rolls, and Noodles
The humble zucchini abounds each summer. Because of its mild flavor and versatility, zucchini pairs well—or substitutes for—almost anything. Hollow out overgrown produce and indulge in Chicken Parmesan or Burrito Boats. Pasta is typically an off limit food for bariatric patients, so make zucchini noodles instead. Rediscover an old favorite with Zucchini Lasagna roll ups.
As always, tailor each recipe to suit your body, reducing cheese, sauce, and flavorings as needed.
Fruitful Dessert
Found in fruit, a natural form, sugar becomes a valuable part of your diet. Embrace summer's sweetness by creating a new dessert menu that focuses on sun-ripened berries, luscious melons, and simplified favorites. Try this Berry Watermelon Fruit Salad by Fork Knife Swoon.
Ingredients (4-6 servings):
4 cups watermelon, cubed
1 pint strawberries, hulled and quartered
1 pint blueberries
1 pint raspberries
1 pint cherries, pitted and halved
1/2 pint blackberries
squeeze of fresh lime juice
Directions:
Cut all of the fruit into bite-sized pieces. Add to a large mixing bowl, and gently toss together. Top with a squeeze of fresh lime juice, to taste. Serve chilled.
What are you favorite summer recipes?