Questions to Ask When Considering Weight Loss Surgery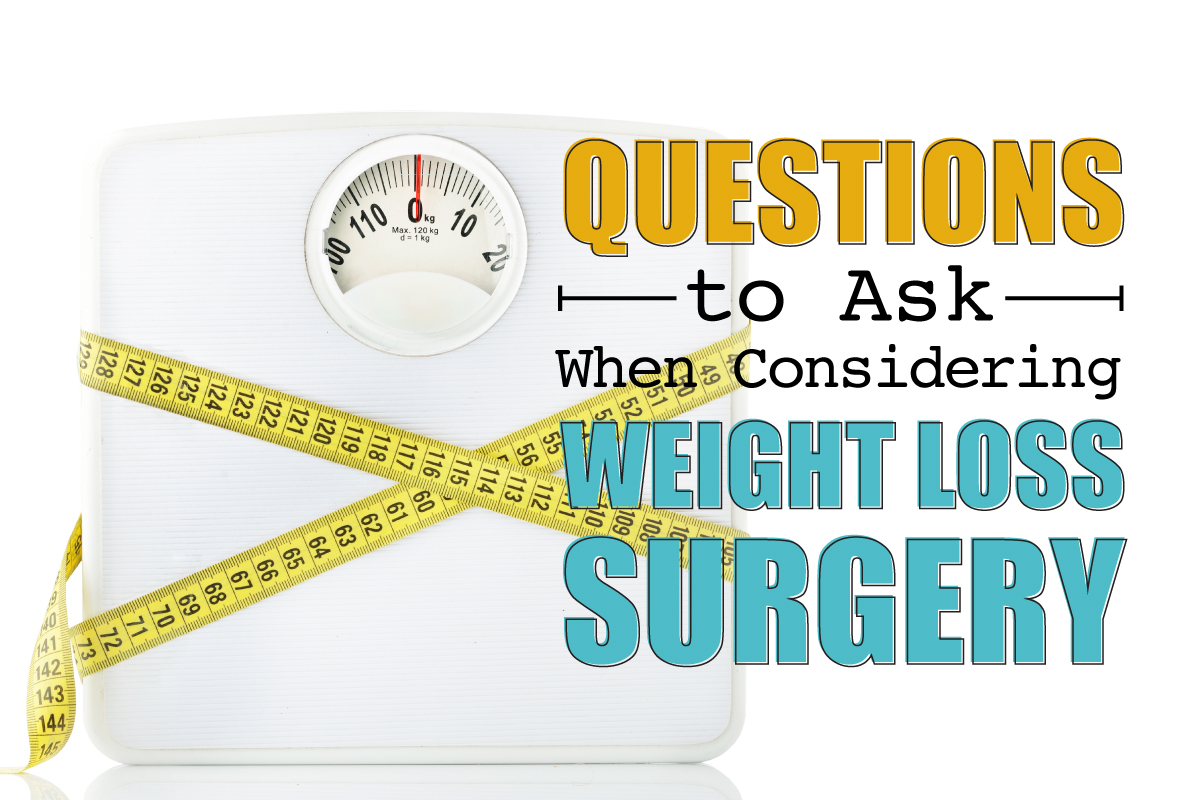 When a person begins considering weight loss (bariatric) surgery, chances are many other options have been tried. However, there is still some misleading information that could cause someone to believe surgery is an "easy fix." We want you to understand all the options available, and we want you to make an informed decision about what is best for you and your lifestyle. As you explore bariatric options, the following questions and answers may help guide you.
Does my BMI make me a candidate?
If you have a BMI greater than 40, you fall into the "morbidly obese" category. This is a strong indicator that weight loss surgery could be an option for you. However, your doctor will also take chronic health conditions, your lifestyle, and your family history into consideration when making a recommendation for surgery. In short, an obese-level BMI is not the only indication you should use when considering bariatric surgery.
Do I have a chronic health condition related to my weight?
Being overweight can lead to many health concerns since your body is under extra stress caused by the excess weight. Some common health concerns the doctor will assess are:
Diabetes
High blood pressure (hypertension)
High cholesterol
Heart disease
Sleep apnea
Acid reflux or gastroesophageal reflux disease (GERD)
Degenerative joint disease
If your BMI is greater than 35 and you have a chronic medical condition attributed to your weight, bariatric surgery could be a viable option. Unfortunately, not all medical conditions can be adjusted, since genetics play a role in our health as well. However, getting your weight under control through any method could lessen the impact of hereditary disorders on your lifespan.
Have I tried other weight loss options?
Carefully consider your other attempts to lose or control your weight. Have you followed a diet plan or been counseled by a nutritionist? Do you exercise regularly or have you done so in the past? With your doctor, be prepared to discuss how other options have worked for you.
Bariatric surgery should be the last option for patients who are morbidly obese. In fact, many insurance plans will require you to demonstrate other attempts to control your weight prior to undergoing surgery.
Am I ready to change my lifestyle?
Undergoing surgery is a very big decision that will change your life. Certainly losing weight is a good thing for your health, but it is important to understand that surgery alone does not help you keep your weight manageable. Following bariatric surgery, you will be required to adhere to an extremely strict liquid only diet for the initial recovery period. Following that 8-12 week span, you may discover that your body processes food differently than it did before. You will need to take nutrition supplements to insure your daily nutritional needs are met.
Bariatric patients are also encouraged to eliminate or restrict sugar, fatty or fried foods, alcohol, and carbonated drinks from their diets. These are, of course, healthier choices you can make prior to surgery. After surgery, your habits will change out of necessity, and this can lead to strong emotions.
If you have struggled with diets in the past, you will want to carefully consider how difficult it will be to adhere to the post-surgery requirements. This is an important decision that affects both your physical and emotional well-being.
How much does surgery cost, and will my insurance cover this procedure?
While this is an important consideration, do not let it rule your decision. The average cost of gastric bypass or gastric sleeve surgery can range between $14,000-$30,000. However, most insurance plans will cover the procedure if it is medically necessary due to other health complications caused by your weight status. A quality surgeon will have office staff available to assist you in navigating insurance concerns and setting up a payment plan.
You will also want to make sure your insurance plan will cover follow up procedures and monitoring. Some patients find it necessary to undergo plastic surgery to address skin folds. Others may need the support of a psychiatrist during their recovery. Be sure to ask as many questions as possible of your insurance so that you are not surprised later. Talk with your doctor and other patients about concerns you have.
If you do decide weight loss surgery is the right choice for you, we are here to assist you every step of the journey. Our first and primary concern will always be for your best health.